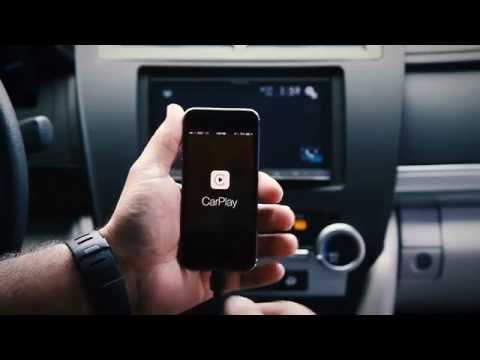 AVIC-6201NEX 4-Channel Video Deck with Built-in Bluetooth and Navigation
Features
In-Dash Navigation AV Receiver with 6.2" WVGA Touchscreen Display and included ND-BC8 back up camera.
iDataLink Maestro
Keep your factory features and expand your level of in-vehicle connectivity with Pioneer NEX and iDatalink Maestro RR. When your AV receiver is installed into a compatible vehicle using the iDatalink Maestro RR (sold separately), you'll be able to enjoy the performance and features of the AV receiver plus touchscreen control over key factory audio features. This AV receiver supports factory functions via the iDatalink Maestro RR including: Steering Wheel Controls, Media Player (including the factory AUX-in and USB ports), Hands-Free Telephone, Voice Commands, Satellite Radio, and Secondary Display Support.
Back-up Camera Ready*
Back-up camera input enables you to add a reverse (rear facing) camera that can assist with rear visibility, towing, or parking.

*Rear visibility systems (backup cameras) are required under federal regulations in certain new vehicles according to a phase-in schedule that began on May 1, 2016. Owners of vehicles equipped with compliant rear visibility systems should not install or use this product in a way that alters or disables that system's compliance with applicable regulations. If you are unsure whether your vehicle has a rear visibility system subject to these regulations, please contact the vehicle manufacturer or dealer.
AppRadioLIVE
AppRadioLIVE simplifies your drive by combining the information you need during your commute into a single, simple to use interface. It's YOUR digital lifestyle connected. It was specifically designed based on feedback from our current AppRadio customers and offers quick and easy access to personalized information needed in the in-vehicle environment including: Maps, Media, News and Calendar. AppRadioLIVE pulls content from many different sources and services which you likely already have an account with. All you have to do is download the FREE AppRadioLIVE app and sync your services. All you information saved on those accounts will be pulled into the AppRadioLIVE interface.
Dual Zone Entertainment
This receiver allows rear seat passenger to enjoy audio or video content on additional rear seat monitors and headphones, even while the front passenger and driver listen to audio from other sources or operate navigation functions simultaneously.
HERE
This receiver offers a comprehensive map database from HERE® covering the entire United States (including Alaska and Hawaii), Canada, and Puerto Rico enabling users to route to millions of destinations including 7.9 Million points of interest (POIs).
MIXTRAX
Keep the party going with MIXTRAX, an innovative Pioneer technology that creates a non-stop mix of your music library complete with a range of DJ-inspired effects. Drawing from Pioneer's rich DJ heritage and our passion for music, MIXTRAX delivers a unique DJ infused listening experience to those in the car. MIXTRAX takes the music from an iPhone, iPod, USB device, or certain Android devices and plays it back with added transitions and effects, creating a virtual DJ inside the Pioneer receiver.
Pandora
Pandora is personalized internet radio that is designed to help you discover new music that you'll love mixed in with music that you already know. You can enjoy superior sound quality and full control of the Pandora experience in your car directly from the touchscreen display of the receiver. You are able to give tracks "thumbs up" or "thumbs down," bookmark a song so you can purchase it later, easily switch between your personalized radio stations, and view full track data and album art.
Power of Siri Eyes Free
Users of an iPhone® can take advantage of Siri Eyes Free functionality. With a simple touch of the NEX touchscreen, Siri starts listening through the NEX unit's external microphone and answers your questions and requests over the vehicle's speakers, helping you keep your eyes on the road and your hands on the wheel.
SiriusXM
SiriusXM Ready allows you to listen to commercial-free music, all your favorite sports, exclusive talk and entertainment, comedy, news, traffic, weather, and more! Simply connect the SiriusXM Connect Vehicle Tuner to the dedicated port on the rear of the receiver and control and enjoy satellite radio without additional translators or cables. Features like Tune Start, Tune Scan, Replay, and iTunes® Tagging will be available on the receiver. The SiriusXM Connect Vehicle Tuner is sold separately. Also, a subscription to SiriusXM Radio is required.
Total Traffic Network
Partnering with Clear Channel Broadcasting Inc, the built-in traffic tuner provides real-time traffic data for over 90 major cities in North America, including Canada. Check your commute route in advance or re-route to your destination to avoid traffic congestion. There is no subscription cost and no annoying on-screen advertisements. With our traffic tuner, now you are ready to navigate stress-free!
AppRadio Mode
With AppRadio Mode for iPhone®, Pioneer has taken the technology from our revolutionary, game-changing AppRadio and placed it in Pioneer system so you can experience control of compatible apps directly on your dash! When connected to an iPhone® using the appropriate interface cable (sold separately) and loaded with Pioneer's free AppRadio application, you can enjoy full on-screen access and control of your contacts, calendar, maps, and more with an intuitive interface, formatted and designed specifically for safer in-vehicle operation. Pioneer has teamed up with app providers to offer compatibility with many of today's most popular in-vehicle apps, while also developing an expanding catalog of compatible apps for future features and functions that can be easily and seamlessly added.
IMPORTANT: Images may not reflect actual product.
Specifications
General
Maximum Power
200 W
Number of Channels
4
Din Connector
2
Rear View Camera Compatibility
Camera included
Volume Control
Button Press
Detachable Faceplate
No
Navigation
Yes
Video Playback
Yes
Remote Control
Yes
Touchscreen
Yes
Screen Size
6.2 in
Additional Information
• Apple CarPlay™ Compatible
• AppRadio® Mode for iPhone® & Android™
• Siri® Eyes Free Compatible

Supplied Accessories
• Remote Control
• Back-up camera (ND-BC8)
Inputs/Outputs
Front Speaker Pre-Outs
Yes
Subwoofer Pre-Outs
Yes
Pre-Outs Voltage
4 V
Auxiliary Input
Yes
USB Input
Yes
Compatibility
Bluetooth
Yes
Direct Control for iPod®/iPhone®
Yes
Pandora
Yes
Satellite Radio
Yes
Warranty
Warranty
1 year
Content ID
402218