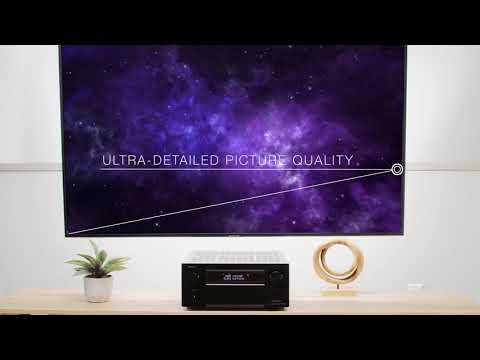 AVR-X6500H 11.2-Channel 4K Home Theatre Receiver
Features
The 11.2 channel AVR-X6500H supports Dolby Atmos, Auro-3D, and DTS:X for an enhanced home theater experience. It features 8 HDMI inputs and 3 outputs that support Dolby Vision, HDR10, HLG, 4K Ultra HD and HDCP 2.2 processing on all ports to output to 3 zones simultaneously. Stream Spotify, Pandora, Tidal and more with HEOS multi-room wireless technology and control it all with your voice through Amazon Alexa. Ideal for custom integrations and enthusiasts, the AVR-X6500 features "ihiji Invision" and "Domotz Pro" remote monitoring and management technology, plus an award-winning on-screen graphical user interface for an easy and intuitive set-up experience.
POWERFUL 11-CHANNEL AMPLIFIER WITH THE LATEST HOME CINEMA SPECS
Featuring a sophisticated power amplifier design, the AVR-X6500H delivers high-power performance at 140 watts per channel (8 Ohms, 20Hz-20kHz, 0.05% THD). Low impedance drivers provide operational stability for a wide range of speakers and create balanced, tonal sound. The AVR-X6500H features three-dimensional sound formats Dolby Atmos, Auro-3D and DTS:X, plus an HDMI section with HDCP 2.2 support and advanced video processing with 4K scaling for HDMI sources and two 12V trigger outputs to connect external devices.
IMAX ENHANCED TECHNOLOGY
Get the most premium at-home entertainment experience with IMAX Enhanced—the latest technology program from IMAX that sets a new standard for image, sound, scale and content quality. Watch clearer pictures and brighter images. Feel immersive, heart-pounding audio delivered by DTS. See more picture on the largest screens. And experience premium content digitally remastered by IMAX.
FEEL THE POWER OF LIFE-LIKE SOUND
Auro-3D® elevates the home theater experience to amazing new levels by delivering the excitement of three-dimensional sound for music, games, broadcast and films while enhancing your existing audio-visual collection through the Auromatic upmixing engine.
UNWIRE YOUR SOUND
Featuring Bluetooth and Wi-Fi wireless streaming connectivity, the Denon receiver is equipped with an advanced dual antenna transceiver system for robust streaming even in congested urban environments. Plus, with AirPlay2 compatibility, you can enjoy listening to your favorite audio content wirelessly from your iOS devices such as an iPhone or iPad.

Built-in HEOS technology lets you enjoy your favorite music in any room of your home for a wireless, whole-home audio experience. Play the same song in every room, or select a different song for each connected room — the choice is yours. Also works with Amazon Alexa, providing cutting-edge voice control and incredible sound for all of your home entertainment.
CHOOSE YOUR FAVORITE SOURCES
The Denon receiver's front panel features four Quick Select buttons that store your preferred audio settings for each source. Switch between TV audio, Blu-Ray, media players and more, and the receiver adjusts the EQ settings to your preferences for that media source. Use the buttons on the front panel or opt for the same Quick Selects on the AVR remote for faster control.
UNIQUE DENON AUDIO TECHNOLOGIES
AL32 Processing provides multi-channel ultra-high-resolution digital audio filtering on all audio channels and delivers a natural soundstage with enhanced imaging of the sound. DSP incorporates no less than four powerful, high-speed fourth generation SHARC DSP processors, which together have a combined continuous processing capability of 10 GFLOPS (10 billion floating point numerical computations per second). Combined, these audio technologies provide high-resolution audio support for an exceptional listening experience.
AMAZON ALEXA VOICE CONTROL
Use your voice to stream your favorite music services to this HEOS-enabled device. Ask Alexa to play music from Pandora, Spotify, Amazon Music and much more. Switch between inputs (Blu-ray, DVD, Media Player, etc.), turn volume up or down, pause, mute and play the next song — all with your voice.

To start streaming with Alexa voice commands, open the Alexa app and select "Skills." Add HEOS Home Entertainment to enable. Then, go to Smart Home in the Alexa app menu and choose Devices and Discover or say "Alexa, discover my devices."
With HEOS Home Entertainment and Alexa, you can stream to this product and any other HEOS-enabled device.
GOOGLE ASSISTANT VOICE CONTROL
Ask your Google Home, Google app or other devices with Google Assistant built-in to control content across your listening environment. Start music in the HEOS app, then ask your Google Assistant to control volume, play, pause, skip tracks and more. 'Works with the Google Assistant' feature is always improving — further enhancements arrive in 2019.
JOSH.AI SMART HOME VOICE AUTOMATION
An elevated voice agent for the high-end smart home, Josh.ai offers flexible voice control for nearly any aspect of your day-to-day experience and entertainment environment. Use voice commands to control the thermostat, lights, home appliances, speakers, AVR and more. Josh.ai is installed by custom integrators and accessed through an app on your phone or tablet. Works with iOS and Android devices.
GET THE AMAZING HEOS EXPERIENCE
Enjoy your favorite music from anywhere and everywhere around your home. Share music stored on your home network, streaming services with HEOS wireless speakers or even other HEOS-capable receivers and listen throughout the whole house. Control it all with the free HEOS app. Enjoy music from TuneIn, Internet Radio and a wide range of streaming services including Pandora®, Spotify®, Amazon Prime Music, iHeartRadio, SiriusXM, Soundcloud®, Tidal, Napster or Deezer.
IMPORTANT: Images may not reflect actual product.
Specifications
General
Sound Channels
11.2
Power Output
• 8 ohm, 20 Hz - 20 kHz, 0.05% 2ch Drive: 140 W
• 6 ohm, 1 kHz, 0.7% 2ch Drive: 175 W
• 6 ohm, 1 kHz, 10% 1ch Drive: 250 W
Power Consumption (Max)
750 W
Total Harmonic Distortion
0.05 %
Frequency Range (Hz)
20 Hz - 20,000 Hz
Video Compatibility
4K
3D Ready
Yes
Atmos Compatible
Yes
Dolby Digital
Yes
DTS
Yes
HD Audio Capability
Yes
Numbers of Zones
2
Bluetooth
Built-in
Inputs/Outputs
AM/FM
Yes
Phono Input
Yes
HDMI Inputs
8
HDMI Outputs
3
Component Inputs
2
Component Outputs
1
Composite Video Inputs
4
Composite Video Outputs
2
Composites Audio Inputs (Analog)
6
Optical Digital Inputs
2
Coaxial Digital Input
2
Network
Yes
RS-232
Yes
USB
Yes
Wi-Fi
Yes
Dimensions
Width
17.1 inch(es) / 43.43 cm
Height
6.6 inch(es) / 16.76 cm
Depth
14.9 inch(es) / 37.85 cm
Weight
31.99 lb(s) / 14.51 kg
Shipping Dimensions
Width
18 inch(es) / 45.72 cm
Height
12 inch(es) / 30.48 cm
Depth
20.5 inch(es) / 52.07 cm
Weight
38.21 lb(s) / 17.33 kg
Content ID
526119